Scenario #1: Motor Vehicle Crash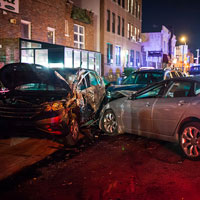 This first scenario begins with a motor vehicle crash with injuries. As discussion progresses, more complex elements will be introduced involving vehicle extrication and structural compromise and collapse, leading to a mass casualty incident (MCI) and medical trauma alert.
Scenario #2: Multiple Tornados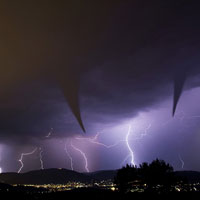 Six tornados spawn and touch down. The events occur between 11:30 p.m. and 4:00 a.m. in late Spring. Local law enforcement is first at many scenes of mass casualty incidents and major public and private property damage. Many requests for mutual aid from fire, police and EMS begin to be transmitted to the multiple city and county emergency communications centers. It is immediately apparent that assistance will be required from areas outside of the impact zones.
Scenario #3: HazMat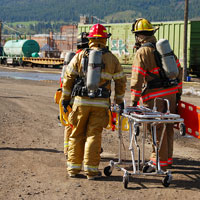 Panel discussion of a "very bad day" scenario involving a tanker trailer requiring response from multiple agencies, disciplines and jurisdictions, including state and federal resources and secondary responders (power, water, etc.). MCI with trauma alert and evacuations of populations in surrounding areas.
Scenario #4: Structure Fire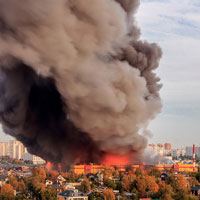 Incident involves multiple jurisdictions, including rural and suburban areas. Communications between multiple agencies (9-1-1 centers, dispatch centers, responders) are complicated by multiple alarms. Airborne support is required. Social media creates crowd issues. Emergency communications center functions as focal point for all communication input.
Scenario #5: Pursuit – Multiple Jurisdictions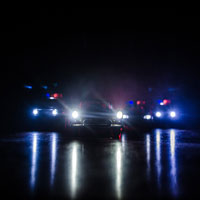 Two city patrol units initiate a high-risk (felony) stop on an interstate. The vehicle is associated with a drive-by shooting that occurred within the last 10 minutes. The vehicle, and occupants, match multiple witness descriptions from the shooting scene. Police have a CAD case created, based on the initial 9-1-1 calls, with all relevant data, including suspect and vehicle descriptions. After initially stopping, two occupants in the suspect vehicle open the rear passenger windows and open fire on the law enforcement officers. The suspect vehicle then accelerates rapidly and flees the scene. Officers/Deputies from multiple agencies will need to begin responding to the area, and to strategic locations along the interstate and adjacent roads. The pursuit will pass through multiple jurisdictions.
Scenario #6: Cyber-Physical Attack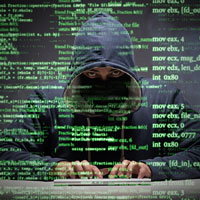 Cyber incident results from initial attack vector utilizing the internet of things and spreads to multiple aspects of critical infrastructure. ECCs will be impacted (9-1-1, CAD, records, GPS/timing, mobile data) and the initial attack will be accompanied by a physical event. It will become apparent that the cyberattack was a precursor to the physical event. This is known as a cyber-physical attack.